12 Amazing 2 BHK house architecture design from the best architect
2 BHK house architecture design, may not be a palace, but they can be plenty of space for a rising family or even a swinging single with the right layout. The best apartment layout for any situation would be determined by the importance of noise, ventilation, and privacy to the residents. Parents with small children, for example, would likely choose to have their child live next door, while two college roommates will prefer bedrooms on opposite sides of the house. These 2 BHK house architecture design are imaginative 3D renderings of two-bedroom spaces are sure to inspire you, no matter how much space you have.
Apartments with two bedrooms are perfect for couples and small families. Two-bedroom homes or apartments are one of the most popular styles of homes or apartments available, providing just enough space for efficiency while providing more comfort than a smaller one-bedroom or studio. We'll show you some of our favorite two-bedroom apartment and house plans in 3D perspective in this article. Please see these 2 bhk house architecture design and house plans series if you're searching for modern house plans that also contain architectural drawings.
Some Tips for Turning Your Two-Bedroom Apartment into a Cozy Home for You and Your Family:
Choosing a theme for your interior décor does help to make the process easier.
Colors that make you happy are invited.
Better Organization = Better Space Utilization.
There is no clutter, but there is elegance and clarity in the design. Negative space is also a design element.
Suits for Customized Furniture Items in 2BHK Flats Combine Appearance and Function.
Lights that both add to the 'Wow-Factor' and serve a functional purpose.
Store items in an out-of-the-way location.
7 Top 2 BHK house architecture design that you must see:
There are some unique difficulties in designing 2BHK houses. The majority of two-bedroom apartments are cramped. This makes it impossible to carry out all of the client's design proposals for their house. And it's for this reason that we adore our 2 bhk house architecture design: they allow us to demonstrate our worth as seasoned designers! So, let's get started and look at some of our favorite 2BHK house architecture designs.
A 2 BHK Modern Rustic House Design:
Images from: https://www.designcafe.com/interior-design/2bhk-interior-design/
A 2 bhk house architecture design with smart space-saving furniture and bursts of color in each room, making each zone a joy to be in.
The living room of this 2BHK home features patterned wallpaper, a sectional sofa, and vitrified tiles.
The look of this room is elevated by a false ceiling with cove and recessed lights.
2BHK house Somalika Tiwari, Interior designer:
The entrance foyer of this 2-bedroom house style leads to an open-plan living and dining room. The low L-shaped sofa was purposefully built to give the appearance of more space in the room while still avoiding blocking the broad window that looks out onto the lush hills beyond. All of the seaters are upholstered in white to make them appear less bulky. Individual sofa chairs and a stool are stored here and can be carried around the building.
Check out this Mumbai Houzz: A 760-Sq-Ft Home Reveals Its Space-Boosting Secrets article for a 760-square-foot home in Mumbai that reveals its space-saving secrets on Houzz.
In Mumbai, a two-bedroom apartment for five people:
A house is only complete when it can accommodate all of its occupants. And that's just what we did for this two-bedroom apartment, which is home to a family of five. It is very spacious for a 2BHK house design in Mumbai when you consider the scale. However, Chanda Varma, the client, needed maximum storage to accommodate a family of five, including two children and a senior member.
As a result, our designer Meenakshi Sabarad devised some clever space-saving strategies. For example, she built a see-through partition between the living and dining areas that also served as a vertical garden. This not only saves space but also prevents the room from appearing claustrophobic.
This 2 bhk house architecture design features a living room, a home office, and a window seat all in one space. The living room's entrance door is part of a paneled wood wall with antique mirrors inset in a grid pattern. There is a faint haze on all of the mirrors, but there isn't a sharp reflection, only a hint of one. These were chosen to give the impression of a larger room and to conceal the entrance door entirely.
This space, which was originally a balcony and was later converted into a window seat, is located within the living room. There is a cozy sofa in the area where the homeowners can relax and enjoy tea and chat.
2BHK House Design in Pune that is both compact and affordable: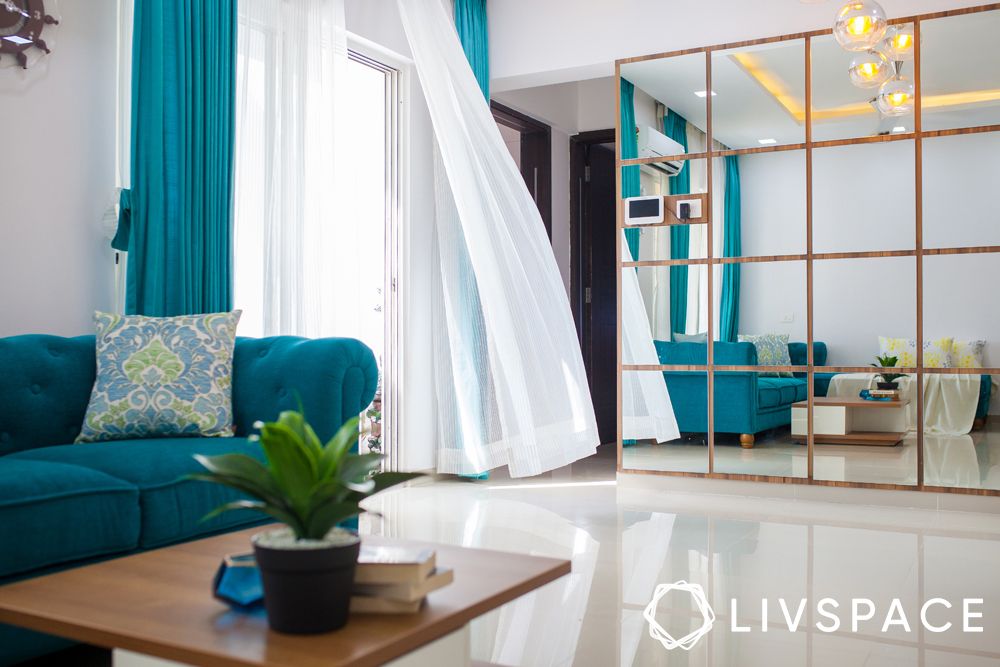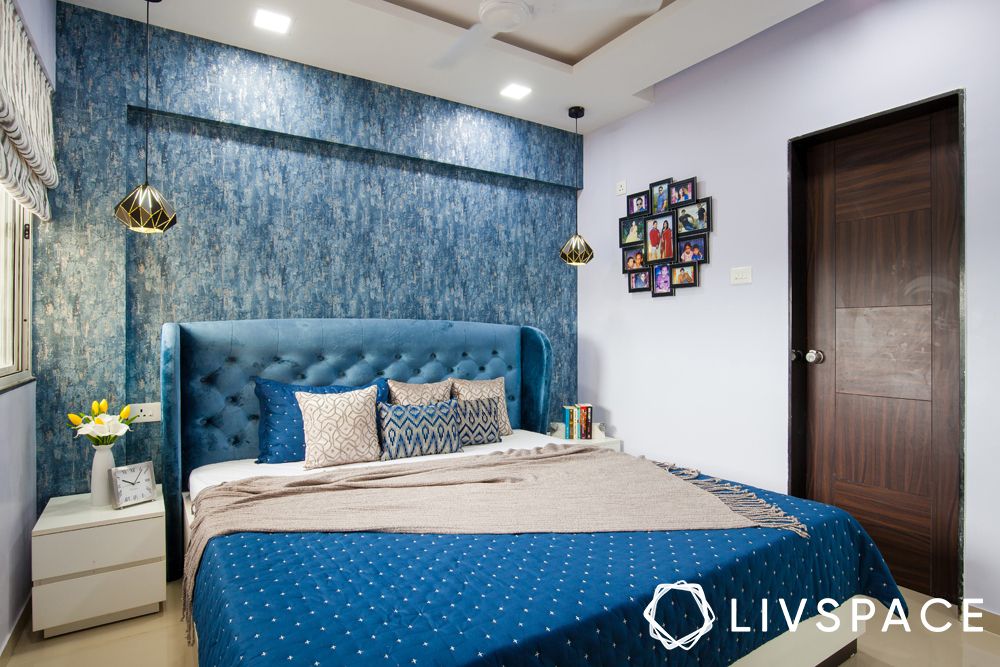 Image from https://www.livspace.com/
Your first home will always hold a special place in your heart. Nikhil Kurothe and his wife, a young couple who had just purchased their first home in Pune, were in the same boat. Their 2BHK house design was very small, and they were working with a limited budget. Furthermore, they desired a child-friendly environment for their daughter.
Sravani Ayyagari, our designer, went beyond and beyond all of their expectations! Using mirror panels to make your home appear larger is a good idea. Sravani has used mirror panels and shutters to make this two-bedroom apartment appear larger than it is. Furniture with rounded edges and tufted upholstery was used to keep things safe for the kids.
Finally, Sravani chose budget-friendly finishes like laminate and MDF to keep the design within budget.
This Wooden Wonder in Mumbai is a Small House: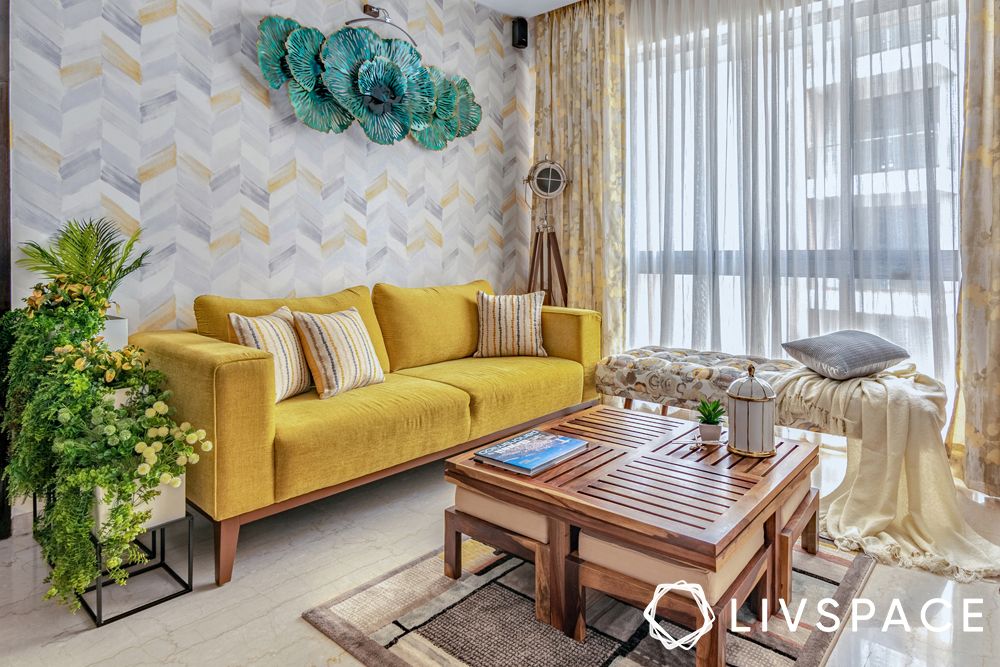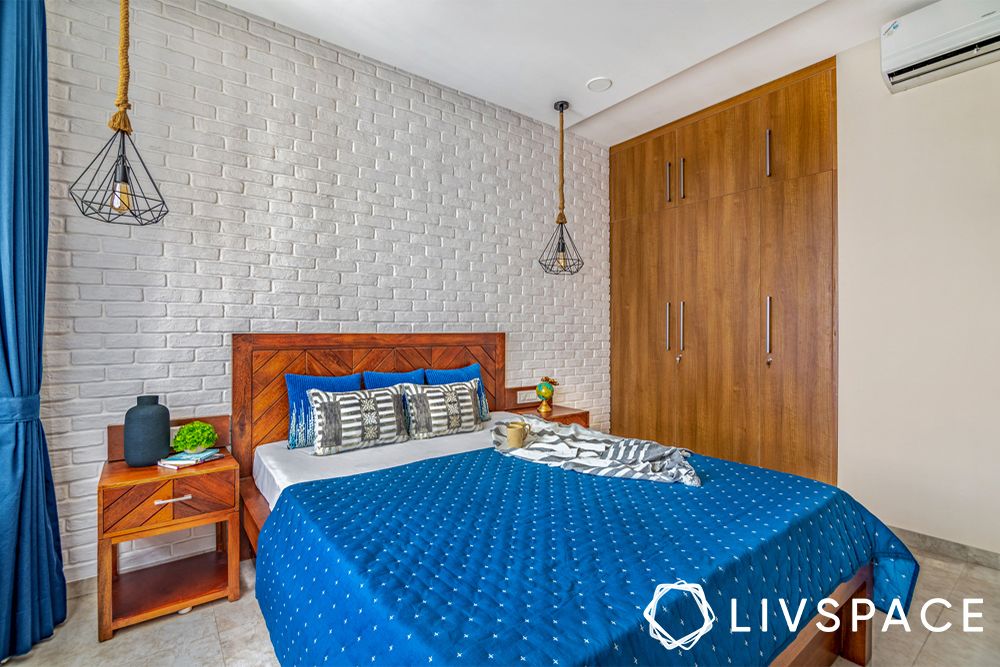 Image from https://www.livspace.com/
It's difficult enough to design a home with just 580 square feet! Add to that the fact that the home's owner, Sumeet Roy, was unable to oversee the project. Before integrating Sumeet and his mother Maitrayee's preferences, our designer Pooja Gurav concentrated on making the fundamentals of this home right. This 2BHK exudes a warm and welcoming vibe with its wooden textures and vibrant colors. What's the cherry on top? A TV unit with nested stools, a crockery-cum-bar unit, and sliding wardrobes are among the space-saving storage solutions.
A Modern Two-Bedroom House with Space-Saving Furniture:
Images from: https://www.designcafe.com/interior-design/2bhk-interior-design/
This 2BHK apartment's interior design was created for a fun-loving family. It was created to meet the requirements of both adults and children. The use of bright colors like yellow, as well as earthy finishes like stone textured tiles and a red brick wall, can be seen in this home.
This two-bedroom home features a brick foyer with a focal point and LED lighting. To store shoes, a shelf and a bottom cabinet have been added to this location.
The entertainment unit in this two-bedroom home's living room has open shelf storage and push-to-open drawers.
Read More: