Architectural Designs For Small Houses | Best Tiny house Designs in 2021
Architectural Designs For Small Houses designs are those that are less than 1,500 square feet in area.
For obvious reasons, small home designs are becoming increasingly common. A well-designed small home will reduce prices, upkeep, and carbon emissions while increasing leisure time, privacy, and comfort in many situations. For the last ten years, the average square footage of new houses has been declining as people understand that the McMansion of oversized everything is neither realistic nor fun to live in.
However, by using space dynamically and effectively, architectural Designs For Small Houses seem bigger than they are. Small house designs are a cost-effective option not only to build but also to own because they consume less electricity to heat and cool, resulting in lower maintenance costs for homeowners. You'll find a small design of any size and theme, whether you're looking for a genuinely basic and cost-effective small home design or one with luxurious features and exquisite detailing. Most of our plans have three or four bedrooms and spacious, flowing floor plans, making them ideal for a family.
Take a look at 10 Amazing House Plans For 3 Bedroom Bungalow to see one of our most popular house plans featured on our site.
What should be used in the executive summary?
A comprehensive brief is the first step in architectural designs for small houses. Both criteria must be assessed in terms of what is needed (needs) and what is desired (wishes) (wants).
The brief should include information such as the number of rooms (bedrooms, kitchens, etc. ), room sizes, functions and operations, storage, furniture, and so on.
Only the brief will determine the quality of the final design. When concept options are considered, the brief will be updated.
Explore our collection of Architectural Designs For Small Houses:
Take a look at our collection of Architectural Designs For Small Houses, which include a variety of smart features, eye-catching curb appeal, and more.
Plan for a Tiny House with a Super-Open Floor Plan: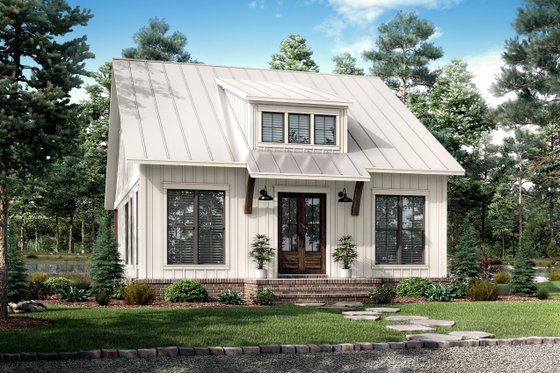 With a super-open floor plan, this modest home style is all about simple living. The kitchen's wide island has views of both the great room and the open dining space. Two-bedroom suites are among the exclusive features. Check out the large back patio, which is ideal for relaxing when the weather is nice.
Check Out these tiny house plans and outdoor living areas.
Two-Bedroom Cottage House Plan:
From the spacious floor plan between the main living areas to the big windows in the living room, smart design decisions make the architectural designs for small houses plan live largely. The screened-in front porch is ideal for relaxing.
Open Floor Plan for a Smart House:
This ranch house plan is sleek and smart, making it a perfect small home or extension to a larger property. To make the most of every inch of space, the living room opens to the kitchen. On the left side of the floor plan, there are two bathrooms.
Lofts and Vertical Space:
The benefit of providing high ceilings in architectural designs for small houses is common. This creates the illusion of a larger room in a small space. Homeowners can hang racks, lamps, and hooks from this vertical room.
Lofts, on the other hand, prefer to lend themselves well to a more vertical space, which residents often use as a bedroom. A loft may also be used as a library, a home office, or even a small library. Designers in these situations surrender height in exchange for more available square footage.
Built-ins are a small house's salvation. They don't protrude into the room or take up some space. They're just a part of the wall, floor, and furniture. Designers may also incorporate built-in space into a kitchen by incorporating wastebasket pull-out bins or a pot storage unit above islands or on the wall.
These creative ideas are small and easy ways to conserve space and make a small space feel more livable. While large, open-concept kitchens remain popular, clever and innovative solutions for home cooks can still catch buyers' hearts in smaller spaces.
There are numerous windows:
Implementing windows — and plenty of them — is another way to getting the best of architectural designs for small houses. Natural light would flood the room, making it feel less like a box and more like home.
The position of the windows is also crucial. End-of-corridor windows, corner windows, and skylights all improve visibility. The sun's rays and heat would be passively absorbed by south-facing glass walls as they stream through the sky.
A Country-Inspired Tiny House Plan:
This country house design has an open floor plan that is simple and exclusive. Two bedrooms are located on opposite sides of the house, with each having its own toilet. The kitchen is entirely open to the living room, giving the space a light and airy atmosphere. Relax on the large front porch.
Architectural designs for small houses plan may also be used by designers and architects, including one space for many purposes. Homeowners may, for example, use a loft as a bedroom, study, or sitting area. And for an extra guest room, they might do the same.
It is incredibly enticing to integrate this extra room into a floor plan for small families and couples seeking even the smallest homes for a little extra space. This design option provides versatility such that a multitude of homeowners will look in the room once their house hits the market.
Have a look at Creating an Organized Multipurpose Room.
Final Words:
Every detail matters when it comes to tiny living rooms and architectural designs for small houses. Each color, furniture, and inch of the room must be used with wisdom from the paint on the walls to the kinds of shelves in the kitchen.
And if a planner has an eye for the little one, they will optimize the room in such a way that it seems enough to live in. A homebuyer will arrive with a touch of luck to make room for his new home.