5 Stunning Examples Of Beautiful Architecture Design For 30X60 House
In Architecture Design For 30X60 House, the most important consideration is to build a fun, safe living environment.
Design is nothing more than arranging the concept of making the best use of available space through analysis, planning, and management. We have one large master bedroom on the ground floor. We also have two additional bedrooms in a triangle configuration. To make your life easier, the master bedroom has an attached bathroom and dressing room.
ADC has a large selection of ready-to-build house plans and front elevations in the size 30×60 at a reasonable price. These 30×60 3D Elevation Plan Configurations Include 1 Storey, 2 Storey House Plans, Which Are One of the Most Common 30×60 3D Elevation Plan Configurations Across the Country. Make My House Is Still Adding New 30×60 House Plans and Resources To Assist You In Realizing Your Simplex Elevation Design, Duplex Elevation Design, or Triplex Elevation Design. Experts, Creative Minds, and the Best Technology Available Produced Our Modern House Design or Readymade House Design Bungalow.
To begin, you must understand that architecture design for 30×60 house is similar to other types of design in that it follows the same basic rules and principles. Although we may disagree on the term "law" in design, certain features are still present in a good design, whether they were followed intentionally or unconsciously.
What Is the Best Way to Get Elevation? Elevation Advice for Architects:
The architectural elevation should have a sense of harmony and peace. Thanks to unity, the various elements and components of the elevation seem to be one, a whole rather than sections. There are some approaches to achieving peace.
While the architectural elevation must be cohesive, it must also be varied or become monotonous. Both definitions can seem to be opposed at first sight, but in architecture, this is referred to as "variety within unity."
There are many ways to gain focus in the elevation design to direct the viewer's eye to the entrance, for example or other essential pieces, and there are many ways to do so.
In architecture, proportions are crucial, and this is especially true in elevation design. They have the power to make or break a design. Since ancient Greece, rules have been invented to achieve ideal proportions, and here are some of the most widely used proportions in architecture.
Examples Of Beautiful Architecture Design For 30X60 House:
If you have a plot measuring 30 feet by 60 feet (30*60), or 1800 square meters, or 200 square yards, or Gaj, and are searching for the right idea for your 30*60 home, we have a few options of architecture design for 30×60 house or you. Here are some examples:
Architecture Design For 30X60 House with front elevation:
There are two storeys in the 3060 House Design.
Plan of the Ground Floor
Number of Bedrooms: 2 Bathrooms: 2 connected to the bedroom and one shared kitchen/dining/living room/drawing room, Porch, and lawn area
Plan of the First Floor
The number of bedrooms on the first floor is two along with one shared kitchen/dining/living room/drawing room, Terrace, and balcony.
Three washrooms | two in the bedroom and one in the common hall Front and back balconies
Villa

– Duplex House-

30×60 house plan:
Ground Floor Plan with 3 bedrooms and 3 bathrooms from which two are shared and one is common, one shared kitchen/dining/drawing room
On the first floor
This plan for architecture design for 30×60 house is narrow from the front, with a 34-foot front and a 72-foot depth. There are 6 bedrooms and 2 bathrooms in this home. It is a three-story, 100-square-foot house plan.
Features of the Property:
Three-bedroom, three-bathroom villa with ten rooms and three parking spaces
The land is 1,800 square feet and the floor area is 1,500 square feet with 5 toilets and 2 garages.
a garage
The balcony
Well Fenced Courtyard
In close proximity to public transportation
In close proximity to the school
There are several windows.
Area for Outdoor Entertaining
Check this video for detail.
North-East Facing 30X60 House Approach: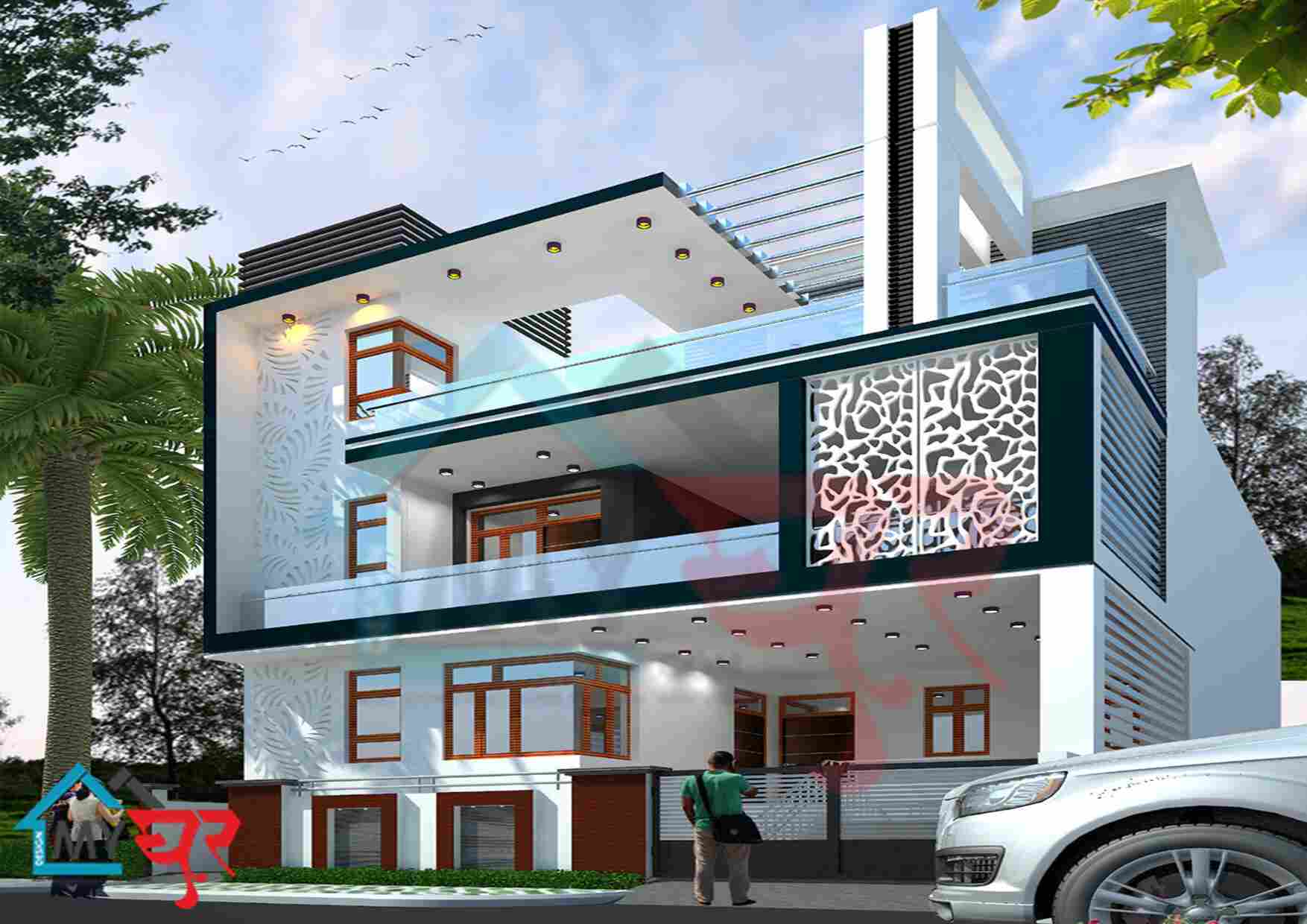 Definition of a Strategy
1800 sq. ft. of land
The total built-up area is 1650 square feet.
137 sq. ft. of lawn
30 ft. wide by 60 ft. long
Residential Style of Construction
Two Storey style house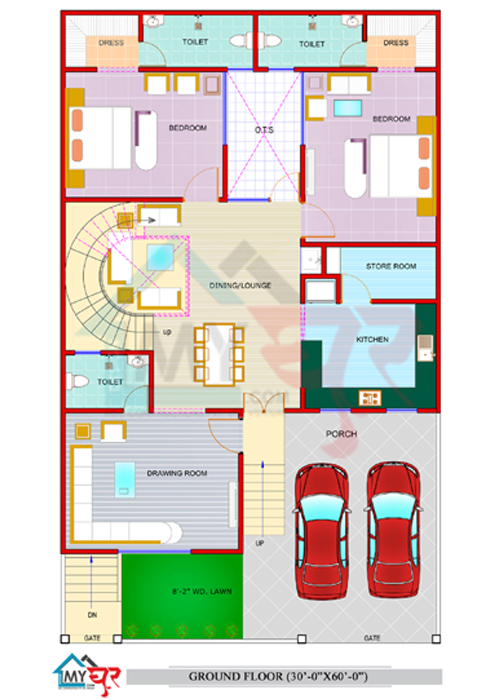 Details on the Ground Floor
1 Master bedroom
1 Bedroom, 1 Living Room
2 Lobby/Dining 1 Kitchen 1 Store 1 Toilet+Dress 2 Toilet 1 Car Parking 1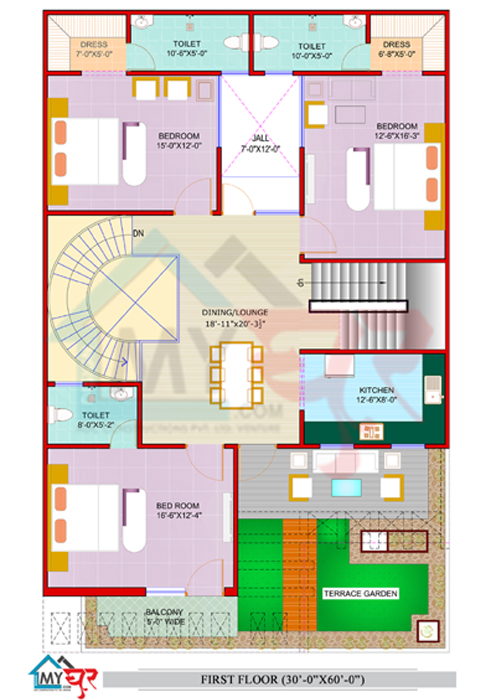 Detail of the first-floor
Bed Room -3
Kitchen -1
Bathroom + Dressing Room- 2
1 – Balcony
South-East Facing 30X60 House Plan: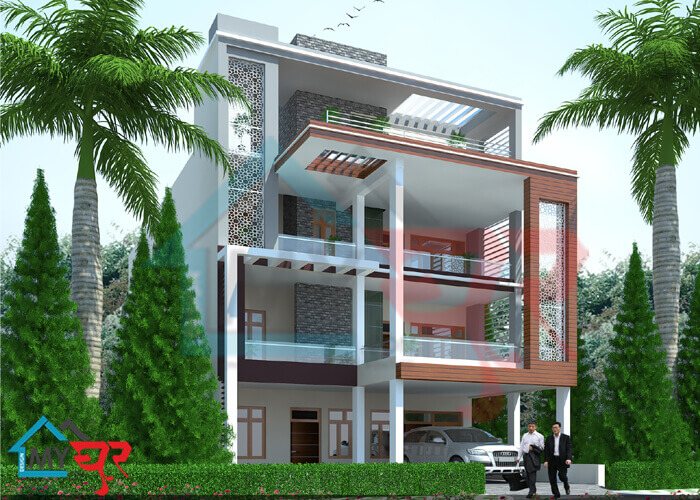 Definition of a house plan:
1800 sq. ft. of land
The total built-up area is 1650 square feet.
150 square feet of lawn
30 ft. wide by 60 ft. long
House is a three-storey building with a residential style.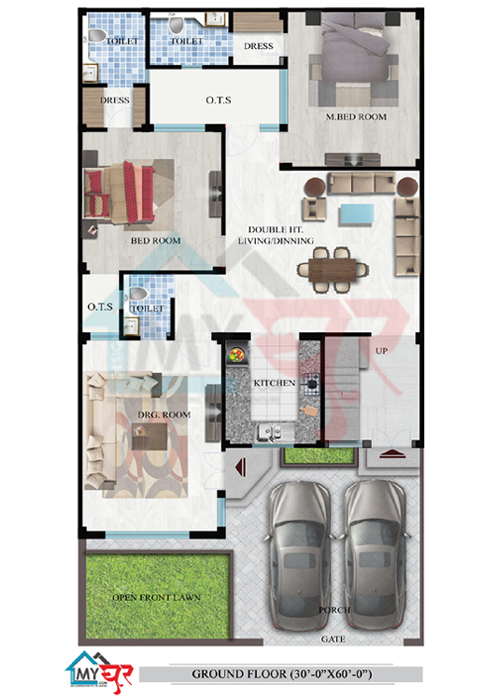 Details on the First Floor:
1 Master Bedroom
1 Bedroom, 1 Drawing Room
1 Toilet 1 Kitchen 2 Toilet+Dress
2 car Parking 2 Lobby/Dining
Floor Plan And Elevation For A 30X60 House:
The total height of the building is 30 floors, with 10 feet for each storey and 8 feet for headroom.
Plan for the Ground floor:
A number of bedrooms: 2
Washrooms:3 | Two attached to the bedroom and one Common
Plan for the first floor:
Room Number: Three
Washroom: three | Two on the bedroom and one on the front and rear of the Common Hall.
Front and back Balcony.
Walkthrough 30X60 House Design
Final Words:
Our platform offers a large variety of architecture design for 30×60 house, we will take only one easy move to pick and reserve your preferred design for your dream home or you can email us to arrange an appointment and to visit our office at the address you have.