5 Beautiful House Plans For Triangle Shaped Plot To Consider While Building Your Dream House
Hello there fellow internet surfer! Are you searching for House Plans For Triangle shaped plots? Do you have a triangle shaped plot but don't know how or what type of house to build on it? If you answered yes to any of the questions, then this is the article you should read.
While the general public is tight on going for cubical homes as they are, well, everywhere; but they need not be the only option on the table. There are triangular houses too. The problem with traditional houses comes in their inflexibility to accommodate. The clearly divided rooms create constraints, packing similar things under one roof: the dining table has to be in the lobby, the bedroom has to have the master bed, the guest room should have the television, etc. And more than that, the partitions create a mental isolation on the resident's mind.
Triangular house plans, on the other hand, follow an open floor plan, that is, there are none or very few partitions, leading to more space and less enclosure. Triangular house plans use the space more judiciously. They are very well suited to unleveled terrains, so if you're planning on selling out that plot you bought on the hills thinking you won't be able to build your dream home, think again! Triangular house designs may be the answer for you.
So today we bring to you a list of 5 beautiful triangular house plans. These designs are meant to inspire you, to take that leap of faith in building your very own dream house. These designs will be helpful for people with triangle-shaped plots. And for others it will be insightful as well.
So let's get started.
Triangle Cliff House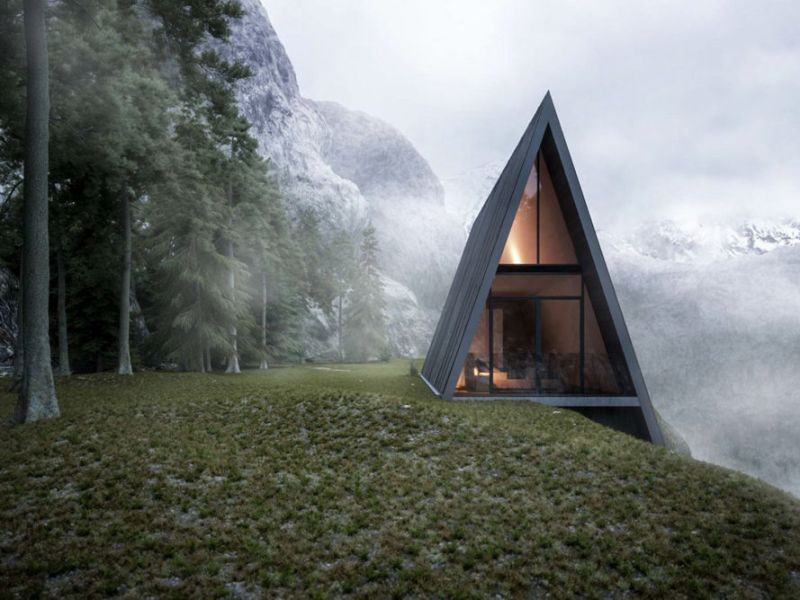 We begin our journey of House Plans For Triangle Shaped Plot with the Triangle Cliff House. This house, set upon a cliff, was designed by a German Art Expert, Matthias Arndt. The side facing the cliff offers a scenic view of the lake down below. A perfect home for vacations, this house is an architecture marvel.
Triangle House With Three Level Atrium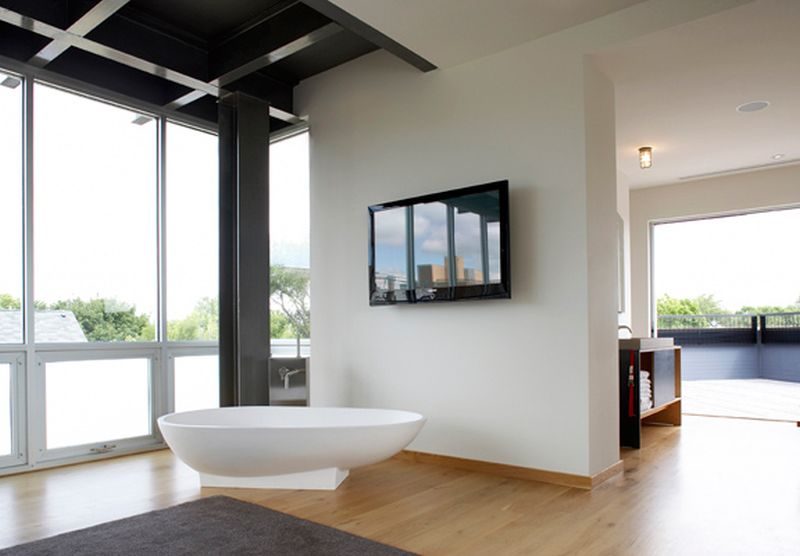 This unique triangular house was renovated by the Randquist Development, a Chicago-based firm. The house is a three storeyed atrium with glass panes for letting natural light in.The ground, first, and second floor have the living room, bedrooms, dining area, etc. The basement has a spa, guest room, and a playroom for the kids. The penthouse is glass encased with a backyard outside to create a boutique-hotel-like feeling. A perfect design maximizing the usage of space and natural light.
Triangle house, Nesodden, Norway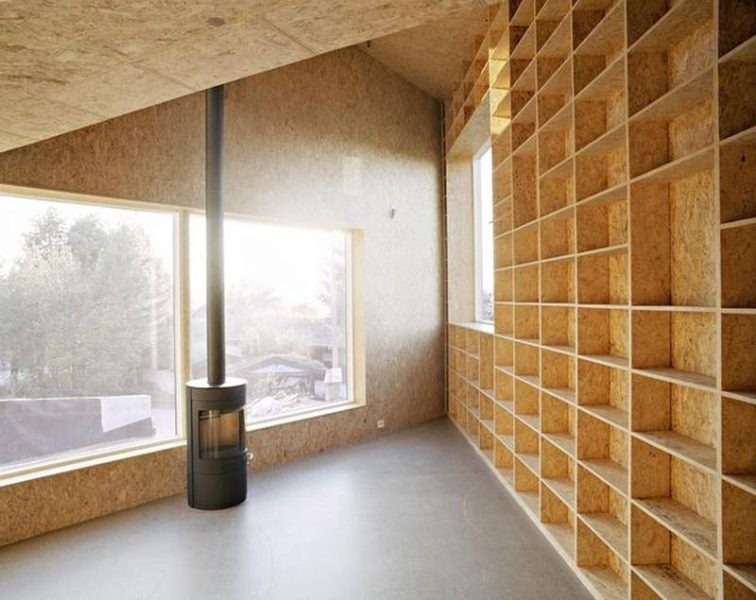 Designed by Vigsnaes/Jarmund Architects, this design is a perfect embodiment of art and architecture. This house utilizes its location (between two level plots with entry on ground floor), to bring out an amazing structural design. And yeah, it's triangle too! Concrete pavement leads up to the right entry and the entry on the left is through a dirt path, cutting through shrubs.
Komai residence, Virginia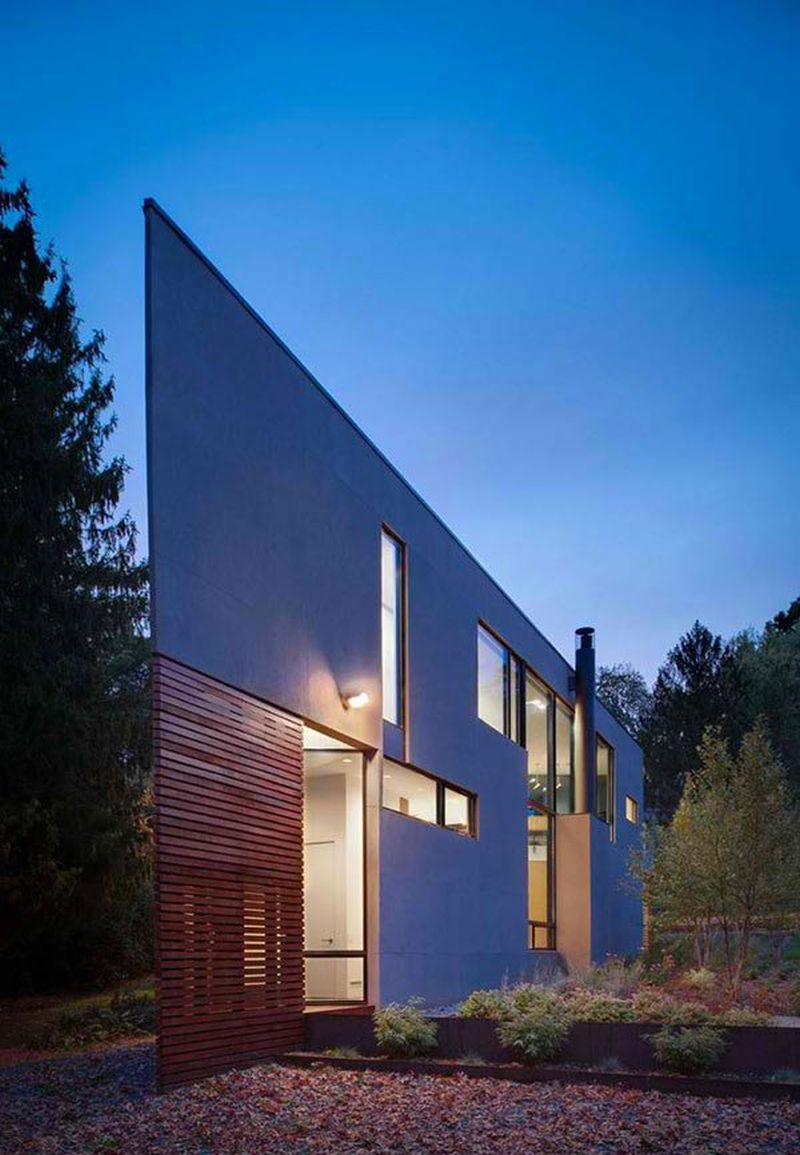 This house was designed by two graphic designers. Though the house is built on a small triangle plot, still, it makes use of the limited space ingeniously. There are very few House Plans For Triangle Shaped Plot in Alexandria, Virginia and this is one of them. It is based on an open floor plan with a kitchen and dining on the ground floor. The bedrooms and workspaces are on the first floor. The house designs have been made specifically to allow maximal natural light.
William Morgan's Triangular Beach Home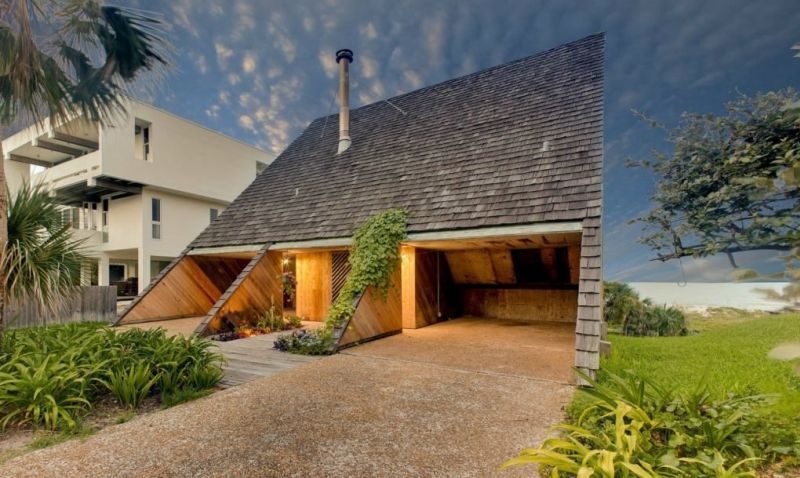 Last but not the least on our list of House Plans for triangle shaped plot we have William Morgan's Triangular Beach Home.
William Morgan designed the triangle-shaped house floor plans for this aesthetic house in 1972. He designed it for his family. It is located on the Atlantic Beach coast in Florida to provide an amazing view to its residents. It has three floors. The triangle-shaped house floor plan is based on an open floor plan. Beautiful cedar wooden panels line the home, with slanted ceilings and plenty of doors and windows that open onto four open air terraces.
Final Words on House Plans For Triangle Shaped Plot
Triangle shaped house plans showcase how structural design can be used as a leverage rather than an obstacle in building a great house. The house plans for triangle shaped plot follow open floor plans and usually demand lower energy resources because of the use of glass panes. The glass panes allow more natural light to enter the house, a practice called Daylighting which is not only sustainable but has other benefits too. For knowing more about the benefits of Daylighting you can click here.
So this was all about House Plans for triangle shaped plot. We hope you found this article informative and helpful. If you're planning on building your dream house, you can give triangular house plans a try as they utilize the space and environment more judiciously as compared to the traditional houses. If you are having trouble finding a suitable place for building your dream home, we may be able to help you. Thank you for reading this article and we will see you in the next one.