10 Stylish Latest interior design for bedroom Ideas and inspiration with pictures
The latest interior design for bedroom finds a plethora of designer bedroom lamps and pendant lights, slick chic bedside units, drawers and cabinets, and lovely closets to store your everyday catwalk selection and get ready for the day.
Wrap your fatigue around this vast gallery of refreshing contemporary ideas and stunning pieces in the latest interior design for bedroom that will certainly wake you up. There is plenty for everyone here from the ultra-sleek, minimalistic bedrooms to cozy and rustic industrial designs, from the crisp Scandinavian look to the colorful cacophony. Experience genuinely creative headboards that include extruded panels and built-in LED strips, making your imagination all attractive.
Unlike other houses, our comfort spot, our safety refuge, and our ultimate destination are without any doubt a bedroom. You are now able to build luxurious sleeping and personal areas rather than just some other bedroom by collecting hints on these latest interior design for bedroom!
Tips for latest interior design for bedroom:
Choose the appropriate shades.
Choose the best bed for you.
Choose a suitable wall decoration.
Select the appropriate flooring content.
Consider the foot traffic in your room.
Fabric colors and designs should be chosen with care.
Curtains should be the right color.
Make use of the proper lighting.
Latest Bedroom design trend Ideas and Inspiration:
Scroll down to discover these new latest interior design for bedroom and choose one that excites you the most!
A Yellow and Grey Bedroom with Modular Furniture:
This bedroom was planned using Pantone's 2021 color palette of yellow and grey. Both of these colors, which combine well together, have been used to design the closet, bed, furnishings, and wall colors.
Specifications:
A sliding door closet in yellow and grey with a skirting drawer underneath that makes good use of the dead room.
The wall behind the bed is divided into two color blocks.
A yellow headboard on a bed and a storage side table is a fine match.
The wardrobe includes a pull-out dresser with a space-saving feature.

Bedroom with Wooden Beams:
Traditional ceiling beams are simply exposed timber joists that are not boxed in or covered over a ceiling. Non-structural decorative ceiling beams made of wood, acrylic, foam, and resin may be added. They are lightweight and come with a variety of materials, including those that resemble wood beams. Some faux beams also allow for the addition of recessed lighting. Textured beams bring interest to the décor by breaking up a smooth ceiling.
Bedroom using stunning headboard accent panel:
Using light and shadow, create a breathtaking headboard feature wall. This style incorporates extruded panels and LED strip lights to create a genuine one-of-a-kind installation that you won't find at your friend's house.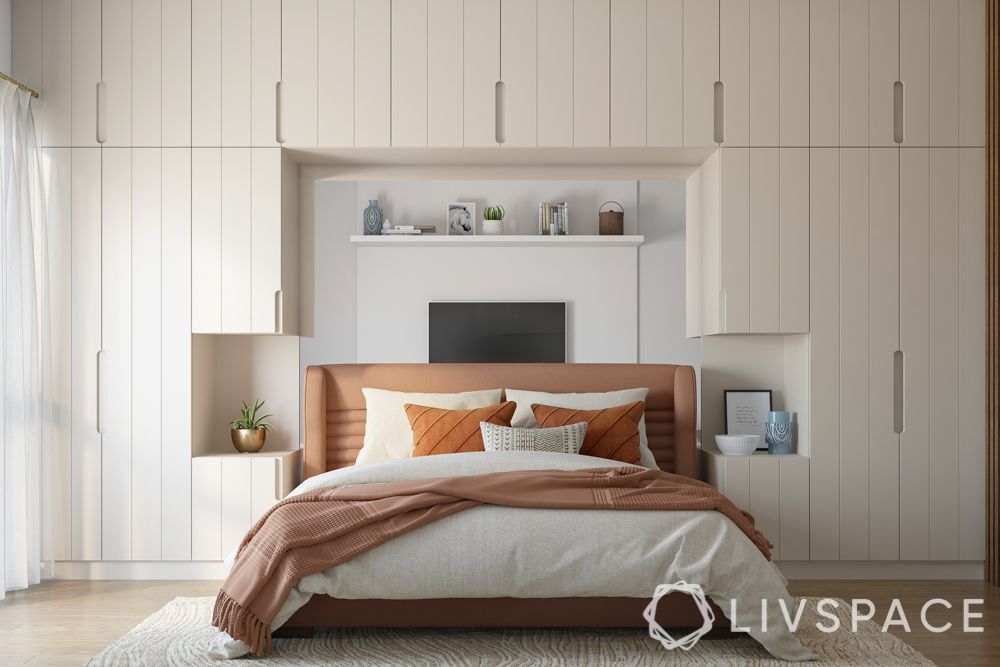 If you don't have enough space for bedside tables, headboard storage niches are a perfect alternative. Both are present in this bedroom style.
10 Unique Interior design ideas for a teenager's bedroom in 2020 have some of the latest trends in bedroom design.
A TV Unit in a Bedroom Interior Design:
This bedroom was created for a young couple who enjoys an urban feel with a splash of color. The look of this room is brought together by a TV unit with storage, a brick wall, and wooden flooring.
Specifications
A hydraulic bed with several storage compartments underneath.
As a side table, a small wooden block.
A TV unit with overhead cabinets and shelves is included in the study.
Extras can be stored on a bedroom desk.

Bedroom lighting can be layered:
Organize the lighting choices in your apartment. An illuminated headboard feature wall, bedside table lights, and a ceiling light display that looks like a sculptural work of art are all included in this design.
Interior Architecture Traditional Bedroom:
A typical bedroom style can be defined in two words: cozy and cozy! The room has a charming, old-world charm about it that almost begs us to come in! The woodwork, which includes carved four-pillar chairs, antique-style cotton chairs, printed curtains, and an earthy color scheme, is crucial to achieving this look.
Bedroom Interior Design In A Minimalist Style:
If you believe in the "less is more" definition, then this bedroom interior is sure to inspire you! To create a sleek and elegant look, the room uses a neutral color palette and minimal furniture. The textured flooring, as well as the use of grey for furniture and upholstery, provide a relaxing and peaceful atmosphere. The remainder of the room can be brightened by using white and bringing in peaceful vibes.
40 Serenely Minimalist Bedrooms To Help You Embrace Simple Comforts
Rustic Elements Incorporated Into An Industrial Bedroom:
Industrial bedrooms exude a sense of peace and serenity. Exposed brick walls, iron finishes, and unpolished floors represent the artist's imagination – and what better place to get a feel for the house-in-an-old-factory vibe than in your bedroom? These forty industrial bedrooms demonstrate the range and flexibility of the industrial style, as well as the use of soft and playful finishes. Return to your youth, when you slept in a shabby wooden bed suspended from the ceiling. To hear how the water flows, hang iron pipes on your wall. Soften the hard textures of factory carts with woolen throws and suede seats.
A Contemporary Bedroom with a Modern Design:
While a contemporary bedroom can seem cold and sterile, the end result is always quite welcoming. With the right elements—including vibrant colors, soft textures, and warm wood furnishings—modern design can feel right at home in a master suite or guest room. These serene hideaways make use of natural light for a bright and airy atmosphere, and keep furnishings to a minimum to produce a clutter-free environment.
Final Words:
Do you like these images of the latest interior design for bedroom? These suggestions are useful when you're building a new home or renovating an old one. Make a list of your desires and meet with an interior designer to decide how to make your visions a reality. Please tell us which idea wowed you the most!