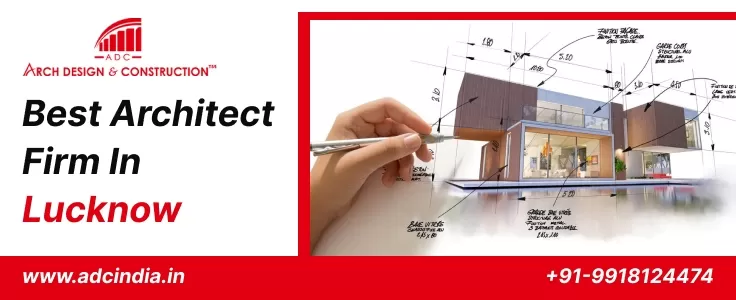 Best Architect Firm in Lucknow - Arch Design & Construction: Crafting Dreams into Reality
Transforming your envisioned space into a palpable reality takes on a whole new meaning when you're accompanied by the right architect. In the dynamic urban landscape of Lucknow, Arch Design & Construction emerge as the foremost preference for architectural eminence. Boasting a squad of immensely adept architects, a history adorned with the creation of awe-inspiring blueprints, and a wholehearted dedication to ensuring client contentment, this establishment has undeniably etched its reputation as the best architect firm in Lucknow.
Best Architect in Lucknow: Transforming Spaces
Arch Design & Construction takes pride in being recognized as the top architect in Lucknow. Our portfolio showcases a diverse range of projects, from residential masterpieces to commercial wonders. Our firm's architectural solutions are driven by a harmonious blend of modern trends and timeless aesthetics, ensuring that every project is a true work of art.
Designing Dreams with Expert Architects
Immersed in the realm of Arch Design & Construction, architecture transcends mere profession; it evolves into an impassioned pursuit. Within our ranks dwell a collective of the most popular architects in Lucknow, each harboring an unparalleled perspective and a vast reservoir of expertise. This rich diversity empowers them to engage projects from myriad vantage points, giving rise to concepts that deeply connect with a spectrum of sensitivities.
Unveiling the Best Residential Architects in Lucknow
When it comes to residences, Arch Design & Construction boasts a lineup of the best residential architects in Lucknow. We understand that a home is a reflection of its occupants, and our designs encapsulate individual personalities and preferences seamlessly.
Crafting Personalized Homes
At Arch Design & Construction, the hallmark of our residential undertakings lies in our adeptness at encapsulating the very essence of our clients' wishes. Ranging from snug apartments to expansive villas, the team of architects at the company ensures that each area emanates a sense of coziness, luxury, and practicality.
Delivering Excellence: Top Architect in Lucknow
Distinguishing ourselves through an unwavering commitment to achieving excellence, we stand as the best architect firm in Lucknow. Architects assume a pivotal role by offering holistic solutions across an array of domains, including architecture, interior design, construction, and interior execution projects. Moreover, architects further leverage their expertise to encompass construction, meticulous interior execution, and adept project management services, all meticulously tailored to cater to the distinct needs of each individual client.
Our Proficiency Spans Across:
Structural Design
Landscape Design
Interior Design
3D Innovations
Thoughtful Floor Planning
Embark on this journey with us as we elevate architectural innovation to unparalleled heights.
Innovation and Excellence: The Hallmarks of Arch Design & Construction
As the best architecture firm in Lucknow, Arch Design & Construction is committed to pushing the boundaries of creativity and functionality. Our designs not only cater to the present but also anticipate the future needs of the occupants.
Architectural Brilliance at its Finest
Arch Design & Construction stands out due to our steadfast commitment to achieving the highest standards of quality. Each project undertaken becomes fertile ground for creativity as architects seamlessly meld state-of-the-art advancements with age-old artistry to attain extraordinary outcomes.
Architect Fees in Lucknow: Transparent and Fair
Worried about architect fees? Arch Design & Construction believes in transparency and offers a fair pricing structure that aligns with the scope and complexity of the project. This approach ensures that clients receive value for their investment. Every project, regardless of its magnitude, extent, or intricateness, merits a customized strategy in terms of pricing
Tailored Solutions, Affordable Rates
At Arch Design & Construction, our pricing strategy mirrors our unwavering dedication to crafting bespoke answers for each and every client. Regardless of whether it involves a subtle rejuvenation or a magnificent architectural spectacle, the team's skilled architects present rates that are both competitive and unwavering in quality.
Seamless Collaboration: Architect in Lucknow Contact
In the realm of triumphant ventures, collaboration stands as the cornerstone, and Arch Design & Construction excels in nurturing a harmonious exchange of ideas between architects and clients. The team of architects at the firm's Lucknow branch places paramount importance on incorporating client insights and ambitions, skillfully transforming them into enchanting and alluring designs.
Your Vision, Our Expertise
At Arch Design & Construction, we hold the firm belief that each client's vision possesses unparalleled uniqueness, warranting our complete and unwavering focus. By fostering transparent channels of communication, our clients are afforded the opportunity to engage wholeheartedly in the design journey. This active involvement invariably yields spaces that resonate harmoniously with our cherished aspirations.
Arch Design & Construction stands as a testament to architectural brilliance in Lucknow. With a team of skilled architects, a dedication to innovation, and a client-centric approach, we have rightfully earned our place as the best architect firm in Lucknow. Whether it's turning a residence into a dream home or shaping commercial spaces, our designs leave a lasting impression. Contact us today to embark on a journey to transform your vision into reality.